Everything Exterior Company History
Everything Exterior Providing Award winning Service
Everything Exterior began providing full-service landscape maintenance (lawn care) and professional window cleaning services in Cedar City and Enoch in 2012. We started with 2 employees and one truck pulling a trailer that did both weekly lawn care and professional window cleaning. By mid-2012 there was too much lawn mowing, lawn care, yard care, and window cleaning for a single crew to handle so a 2nd truck was purchased, more employees were hired and trained, and yard care and window washing became separate divisions of the company. This allowed one truck and crew to perform weekly lawn mowing in Cedar City while the other focused on window cleaning in Iron County. Since then, we have added more vehicles to the fleet, hired many employees, and focused on our range of services. We have expanded our service area and now provide yard care services and window washing in Parowan, Paragonah, New Harmony, and Kanarraville in addition to Cedar City and Enoch.
We began custom Christmas light installations for the 2014 Christmas season. In 2015 our first super lawn truck was added to allow us to improve the appearance of our lawn mowing company and the efficiency of our window washing company as well as to transport bigger equipment and add commercial lawn care to our services. Our 3 main service categories are full-service yard maintenance (which includes commercial property maintenance, yard care, lawn care, lawn aerations, lawn dethatching, lawn fertilization, etc.), window cleaning/window washing, and custom Christmas light displays and installations. Each category includes sub-categories such as core aeration, power raking (dethatching), fertilizer applications, screen cleaning, gutter clean-outs, bed maintenance, and new construction window washing sometimes also called post-construction window cleaning.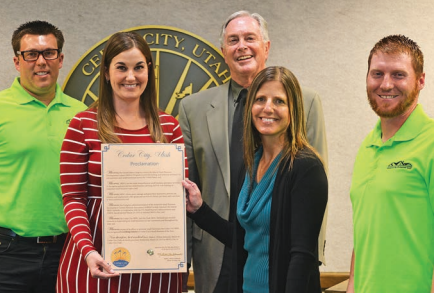 Cedar City Small Business of the Year
Everything Exterior was selected as the 2019 Cedar City Small Business of the Year. This award was earned for "their professional work, outstanding impact in the community, and the beautification of the city" among other items. The award was presented at a City Council meeting and additional recognition was received at the Utah State Capitol.
Efficient Excellence
In 2017 we bought land and constructed our current office/shop as well as a 12,000 ft2 training course for our lawn mowing training. We also have plenty of glass to train our window cleaners and a large building with fences, trees, and bushes to train and practice for our Christmas light installations. More details and pictures for landscape maintenance, window cleaning, and Christmas lights can be found by clicking on the links or using our drop-down menus at the top of the page. If you are interested in a free quote for weekly yard maintenance, custom-cut Christmas lights, or professional window washing just click on the free quote button and you can have a personalized quote sent via email within 24 hours. We are Iron County's best lawn care provider as well as Cedar City's best window cleaner as was manifested by being recognized in 2019 as the Cedar City Small Business of the Year. Do not miss your chance to become a part of the Everything Exterior family and enjoy for yourself our Christmas light installation, window cleaning, and landscape maintenance services.